Welcome to my Website
I am a second-generation glass blower. Both of my parents participated in the early days of the of the Studio Glass Movement (in the 1960s) and went on to work in glass for many years.
From them I learned about form and color, as well as experiencing the excitement of working with hot glass from a very early age.
In the several years of working with them I also learned the value of experimenting. That is, always looking for something new and interesting. As a result I've been able to create many novel and popular items.
Below are some of my most popular items. On My Gallery page, you can get an idea of the other types of glass that I blow.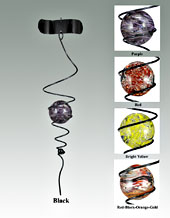 Levitating Marbles
When these unusual items rotate, they create the optical illusion that the large marble is either rising or falling. They can be hung outside, were the wind will cause them to rotate. Or indoors, you can use your hands to give them a start.
The effect can be quite mesmerising.
For more infomation go HERE..
Solar-Powered Garden Lights
These are garden ornaments by day, and lovely lights by night. They are powered by the sunlight that charges their batteries.
For more informtion and many picures of them, go HERE..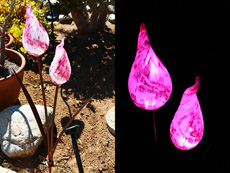 I do not sell anything on this site. However, there are several places where you can buy them. I describe those places HERE. They include SHOWS, STORES , and my ETSY site.
If you would like to receive notices of the shows I will be doing near you (in California and Arizona), you can sign up on my E-MAIL LIST . I sometimes also send out e-mails offering discounts on purchases on Etsy.
For further information you may contact me at